ARTIST STATEMENTS: General, Painting, Sculpture, Furniture
WHAT IS GREAT ART?
THE MASTERS SPEAK
WHY VAN GOGH WOULD CUT BOTH EARS OFF TODAY
***
GENERAL STATEMENT
Today's artist is often asked to identify the aesthetic which defines his/her work. Among the many 20th century options — from Cubism to Constructivism, Pop to Op, Conceptual to post avantgarde, etc. – s/he finds one common thread: the New. Today's artist, unless resigned to being dismissed as derivative and "unimportant," tries to produce work that is, above all, "new."
But after a century of exhaustive artistic innovation, is it possible to produce work that is truly new? Has everything been done? At what point does an aesthetic reorganization or synthesis become so radical and systematic — Cubism, Surrealism, Abstraction — that a new art form is born? Can an artist hope to create comparable new forms? If so, will his/her innovations be identified empirically, on the surface of the work; or intuitively, by what is at the heart?
The doctrines of the original modernists — whether composed by poets and intellectuals (Appollinaire, Mallarme, Breton, etc.); critics (Clement Greenberg, Harold Rosenberg); or artists themselves (Kandinsky, Klee, Motherwell, etc) — defined a new aesthetic, put it in the context of art history, and made its work seem more like methodical experiment than autism. So, their doctrines functioned as both tools of education and tools of propaganda.
Since then, the critics, like wine connoisseurs, have developed a dogma and arcane jargon which has become so self-enamored that it refers more to itself than the art. The critic pontificates about an artist's "voice", "iconography", "diction of line", "dialectic of color", "the rhetoric of his brushstrokes", and his "Zeitgeist". But, as Barnett Newman said: "Art criticism is as useful to an artist as ornithology is to a bird." So, in the end, we ask the founders of 20th century art themselves to explain what it's all about.
"Never the brain's logic: but the logic of the eyes. That's where the material of our art is: in what our eyes think." Cezanne.
"Good painters don't know what they think until they paint it." Motherwell.
Simplest of all, de Kooning: "What you do when you paint, you take a brush full of paint, get paint on the picture, and you have faith."
For me, art — in both creation and observation — is a living experience that loses meaning and impact to the extent that one tries to explain it, much less throw empty terminology at its mysteries. Great painting is more internal than external: it creates and occupies its own universe, pulls the viewer into a field of self-generated energy, and explains itself in the interplay of Color (Energy) and Line (Structure).
The roots of modernism are found in Africa, New Guinea, and the caves of Lascaux. All elements of perception are united in the work of primitives: the object itself, the subject's emotion, psychology, and metaphysics. An aboriginal work is the result of a spell cast on the artist by nature that is at once impressionist, expressionist, surrealist, and abstract.
I try to synthesize these ways of seeing in my own work. For an artist the importance of staying free, flexible, and open-minded to all influences cannot be overstated. But boundaries can't be abandoned. My own boundary is Pop Art – commercial, substanceless, sensationalist, all surface no center, clichéd, manipulative, disposable, recyclable. In short, Anti-Art.
So, in identifying the aesthetic that defines my art, to put it negatively I'm Anti-Pop. To put it positively and simply, I try to create never-seen-before works of imagination that revitalize perception by returning to the "objective" world what our intellect steals from it — magic. In other words, at the risk of sounding old-fashioned, Beauty.
***
PAINTING
Over the years I've moved from Figurative to Abstract. Early on, influenced by Van Gogh, Kokoschka. Rouault, Sautine, and others, I concentrated on expressionist portraits – bold stroke, heavy impasto, fauvist colors.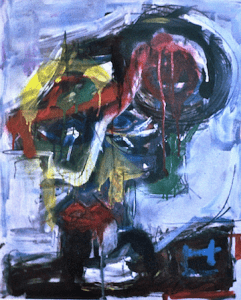 My figures became increasing deconstructed and fragmented until the canvases were Abstract Expressionist color fields.
When I first saw the works of the New York AE pioneers – de Kooning, Pollack, Rothko – I thought, like many: "What the hell is this? A kid could do that!" Not really, as I found out.
After study and practice, I realized the great challenge of abstract painting: it's like a line/color game of chess creating an order from visual chaos – every brushstroke a decision. The canvas fails when chaos prevails, and succeeds when order is created. More than that, a great abstract canvas may show you something familiar in a way that you've never seen before. A yellow or blue such as you've never seen, a simple circle or square like you've never seen.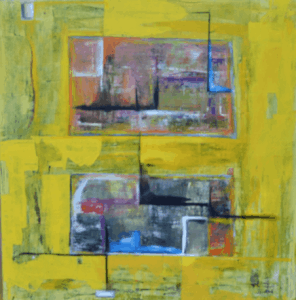 To meet the challenges of abstract painting, I've experimented with many different techniques. My breakthrough came while experimenting with enamels, resins and solvents on melamine board, vinyl floor tile, sheet metals, glass. I found that pigment "cocktails" (both spirit and water-based), when applied in wet-on-wet layers will blossom within one another when solvents are applied. Kaleidoscopic, fractal effects result that resemble both microscopic images (viruses, bacteria) and macroscopic (stars, planets, constellations).
With unorthodox paint mixtures and applications, I try to achieve the brilliant richness and depth of glasswork, cloisonné, and high-fire ceramics. Every work is unpredictable and one-of-a-kind due to the many variables involved: ground, glazes, means and timing of applications, heat, humidity, curing procedure. My larger compositions are puzzle-like assemblies of these "color tiles" with other luminous materials: acrylite, exotic hardwoods, brushed aluminum and stainless steel.
With this self-discovered and refined technique, I try to create never-before-seen works of imagination. Work that is not merely novel, but – technically and conceptually — truly individual, new, and powerful.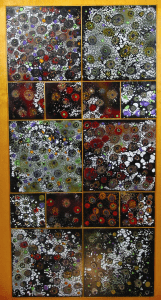 ***
SCULPTURE
My sculpture is inspired by the magic of African primitives, the minimalism of Modigliani and Giocommeti, the sensual monoliths of Henry Moore.
My first sculptures were of wood. I've always loved wood, especially wild highly figured hardwood.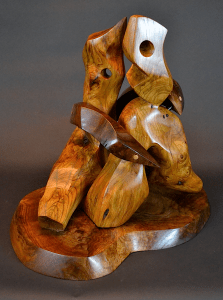 To complement and accentuate rich grains and textures of stumps, burls, crotches, I began to introduce other materials – stainless steel, brush aluminum, marble & granite, acrylic. These hybrid assemblies became increasingly abstract and unique. Finally, I began experiment with another natural material seldom used by other artists: Bone.
The perfect marriage of form and function, bone is the ultimate sculptural material with its sensuous planes, its variegated textures and colors – pebbly to jagged to smooth, umber to blonde to ivory white.
I gather bones from the wild. The seasoned remains of cattle, deer and whale are cut, carved, reshaped, and then joined using orthopedic steel pins and epoxy compounds.  A structure of a reincarnated creature evolves: a vertebra or pelvis becomes a honeycombed head; jawbones and ribs become legs; shoulder blades become torsos. The weathered, variegated whites are complemented and accentuated by ebony and other exotic hardwoods, black and clear acrylite, stainless steel, and travertine marble.
***
FURNITURE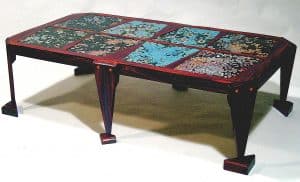 My furniture design is a marriage of classical and contemporary. Many pieces combine exotic hardwoods with steel, stone, and/or acrylic. I try to orchestrate the dramatic hues and grain patterns of highly figured tropical woods such as cocobolo, bloodwood, zebrawood, purpleheart, and others.
My woodwork is sculptural and minimalist. I avoid unnecessary detail or decoration. Less is more. I work mostly with hand tools. No jigs, templates, schematic drawings are involved. Each piece is one-of-a-kind. Trial and experiment are involved in every creation.
My inspirations are eclectic – from the Shakers, to Bauhaus, Mackintosh, Eames, and contemporary Italian. But above all, I strive for the unique, elegant, and timeless.
***
WHAT IS GREAT ART?
Every artist tries to produce quality work according to his or her personal standards of what great art is.
Inspired by the masters — Bosch, Breugel, El Greco, Grunewald, Rembrandt. Corot, Van Gogh, Utrillo, Modigliani, Munch, Nolde, Corinth, Kokoschka. Rouault, Sautine, Vlaminck, Ensor, Picasso, Klee, Kline, de Kooning, Rothko, Dubuffet — these are my standards of great art:
Great art has the power and inevitability of a force of nature. It is never merely a pop manipulation of materials for a novel or whimsical effect.
Great art reveals a vision; mediocre art showcases a technique.
Great art has no subject matter outside itself. It creates and occupies its own universe, and contains all the tools necessary for its own understanding because the work itself is its own comment and its own explanation.
Great art states nothing, implies everything.
Great art is an equation of form: it poses a problem of line and color, and shows the process of solution or unsolveability.
Great art is an order of disorder, a method to madness. It catches the animal, but frees it at the same time.
Superseding aesthetic schools, vogue and propaganda, great art is a unique synthesis of the four ways of seeing: impressionist, expressionist, surrealist, and abstract.
Great art enriches the observer's sense & sensibility. Putting a pedestal under a soup can, or Jesus in a jar of urine, does not fulfill the mandate.
Great art is ambitious – always up & out on a limb, taking chances. Bad art — glib, facile, without edge — never ventures beyond the narrow circumference of its technique.
***
WHY VAN GOGH WOULD CUT
BOTH EARS OFF TODAY
Art today is governed by aesthetic anarchy.
The revolution began years ago when academic technique, fidelity to nature, and "beauty" were scraped in favor of subjective, even solipsist, vision. A viewer now relies on critics to tell him what in the world he's looking at. Responding, arbiters of taste have developed a dogma expressed in arcane jargon that has become so self-enamored that it refers more to itself than the art. Still, this rhetoric gives an air of science and expertise to matters of taste.
Today's artist must identify the personal aesthetic which defines his work. Among the many 20th century options, from classic to avant-garde, the artist searches for a common thread. S/he finds it in the New. So, unless s/he wishes to be dismissed as "unimportant," the artist tries produce work that is, above all, "new."
Practically and philosophically, this imperative presents problems. To the extent that innovation challenges established taste, it is often initially condemned as heresy and its authors as impostors. Van Gogh, Picasso and Braque, Kandinsky and Mondrian, Pollack and de Kooning were less than the toast of the town when fathering Expressionism, Cubism, Constructivism, and Abstract Expressionism. But then along came Johns, Warhol, Schnabel, Koons et al who enjoyed christenings at Studio 54 for Neo-Dada, Post Painterly Abstraction, Pop, and the Transavantgarde.
The first group changed art at the center, creating the New. The second played with the surface, creating novelty.
The doctrines of the first modern art movements — whether composed by poets and intellectuals (Appollinaire, Mallarme, Breton, etc.); critics (Clement Greenberg, Harold Rosenberg); or the artists themselves (Kandinsky, Klee, Motherwell, etc) — created a new aesthetic in the context of art history which made its work seem more like methodical experiment than autism. The doctrines functioned, simultaneously, as tools of education and tools of propaganda.
But with the advent of Pop doctrine, in an effort to disguise the vogue of substancelessness and petty novelty, has become more important than the art which it endeavors to justify, making one wonder which is the real issue. Second, it has become more propaganda than education. Third, regarding education, it is larded with art school buzz words which have little relation to the work itself, or no cash-in value at all.
Today's criticism has become stunning for its flatulence. The issues of  "frontality", "flatness", "edge", "scale", "plasticity", "painterliness", "pictoral space", "compression of motif", "metaphysical multivalence of parts", and "optical fibrillation" are debated. An artist's "voice", "iconography", "diction of line", "dialectic of color", "the rhetoric of his brushstrokes", and his "Zeitgeist" are examined. If Kiefer or Baselitz come up, Salle or Fischl, or any other the postmodern pantheon member, their pictoral space is compared to Poussin, Caravaggio, Ingres, Delacroix, Vermeer, Valaquex, or Pierro della Francesca.
This kind of analysis has a way of distorting the subject by both over-complicating and over-simplifying it, and artists of today must take especial care not to be seduced by the fashion critics of the Emperor's New Clothes.
Art is above all, both in the creation and the observation, a living experience which loses meaning and impact to the extent that one tries to explain it, much less throw vocabulary at its mysteries in hopes of revelation. When a real practitioner, such as VanGogh, was at work surelky the furthest thing from his mind was "frontality," "rhetoric of brushstrokes," or his "Zeitgeist.
In the final analysis, as Dutch expressionist, Asger Jorn, once observed: "There is no such thing as different styles, and never was. Style is the expression of a bourgeois content, and its various nuances are what we call taste."
THE MASTERS SPEAK
 GAUGUIN
-Color, which is vibration, just as music, is able to attain what is most general and yet most vague in nature: its interior force.
-The artist must take nature's elements and create a new element.
CEZANNE
-Never the brain's logic: but the logic of the eyes. If the artist feels correctly, he will think correctly.
MATISSE
-Being an artist is a matter of learning, and perhaps relearning, the language of writing by lines. Artistic creation acquires quality only when it comes up against difficulties.
-Color helps to explain light. I do not refer to the physical phenomenon of light but, rather, the only kind of light that truly exists, that of the mind of the artist.
JEAN DUBUFFET
-Painting is a much more spontaneous and direct language than spoken words. It is nearer to a cry or a dance.
GEORGE BRAQUE
-The picture is complete when the idea is obliterated.
 -The artist who no longer encounters any resistance approaches perfection. But only a technical perfection.
ASGER JORN
 -It is a question of penetrating the entire cosmic system of laws that govern the rhythms, the energies, and the substance that make up the world's reality, from the ugliest to the most beautiful — everything that cries out to us: this is life itself.