JIMI HENDRIX: 
VOODOO CHILD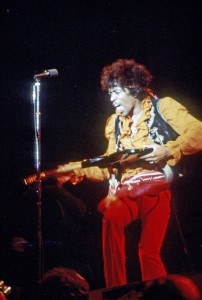 James Marshall Hendrix, hailed as "the greatest guitarist who ever lived," died on September 18, 1970. On this the thirty-ninth anniversary of his passing, the tragedy remains a mystery.
Like many short-lived rock icons – John Lennon, Jim Morrison, Kurt Cobain, to name a few – Jimi heard his train coming early on. "I'm not sure I will live to be twenty-eight years old," he had told friends. "He kept repeating that he was going to die before he was thirty," recalled Colette Mimram, his lover.
The guitarist's last days were ominous. He left the states for a European tour in August, 1970, saying, "New York is killing me at the moment." At the time, he was caught in a crossfire between his mafia-connected manager and his Black Panther bodyguards. A year before, just after headlining Woodstock, he had been kidnapped at gunpoint and held captive for three days.
Matters went from bad to worse for what was to be his last performance, The Love and Peace Festival on the German Isle of Fehmarn. It was raining torrentially, the fans were in a foul mood, and the Hell's Angels securitymen – two-fisting booze, leapers and creepers a la Altamont – were not feeling the love either.
During a break in the storm, Jimi did a quick set, kicking it off with Killin' Floor, then managed a getaway in a taxi before the Angels torched the stage, shot one of his roadies, and shanked his tour manager with a nail-studded plank. Bassist, Billy Cox, freaked, convinced that they would return home in body bags.
"We're gonna die!" he kept sobbing hysterically on the plane from Hamburg.
"Nobody's gonna die," Jimi kept telling his old army buddy.
But, on arriving in England where he had launched his career three years before, he told another friend, "I'm circled by wolves."
Who were these wolves? Stalking lovers, lawyers on his tail for paternity suits, music producers trying to extort him. The real predator, however, was his very own manager whom he was about to fire for mismanagement and the embezzlement of millions.
Mike Jeffery was the Machiavellian Al Capone of rock managers. He'd cut his teeth as a demolition expert and assassin for the British MI6. Retiring to civilian life, he became the understudy of Don Arden himself, the self-described "English Godfather of Rock," and father of Sharon Osbourne, Ozzie's future wife. Arden, who later managed Black Sabbath, the Small Faces, and ELO, negotiated and protected contracts with brass knuckles, Lugers and German shepherds.
Proving himself a precocious student, Jeffery went independent after stealing "Mr. Big's" golden goose, the Animals, and living to boast about it. He then bought up rock clubs, torched them for the insurance, built bigger clubs, bankrupted the Animals and opened numbered accounts in the Majorca and the Caymans. Finally, he usurped Hendrix's management from the Animals' bass player, Chas Chandler.
After relentlessly touring the Hendrix Experience for two years, the former spy became a multi-millionaire. Jimi was too drugged out to realize he was a pauper except for Stratocasters, totaled Corvettes, and mountains of coke and acid.
When, just before his death, he staggered into a London club, his friend Eric Burdon was "devastated" by what he saw. "Jimi was a mess – dirty, out of control like I'd never seen him," recalled the Animals' singer who had forewarned him about Jeffery. "He had a head full of something – heroin, ludes, or German sleeping pills."
As Hendrix left the club that night, he mumbled, "I'm almost gone."
Two days later, the body of the guitarist lay on a stainless steel gurney at St. Mary's Hospital. His clothes and hair were soaked with red wine which he had never drunk. The surgeon on duty, Dr. Bannister, suctioned inexhaustible quantities from his stomach and lungs. "Someone apparently poured red wine down Jimi's throat to intentionally cause asphyxiation," he stated years later.
Though Bannister concluded that Hendrix had been "drowned," the coroner's report dismissed the case as "death by misadventure."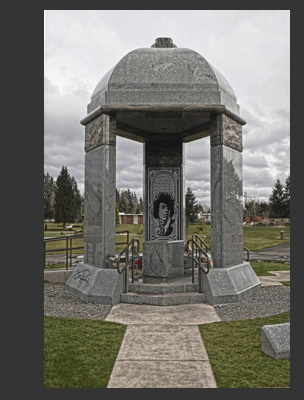 A former Jeffery associate, James Wright, asserts in his 2009 title, Rock Roadie, that the manager confessed to the murder in 1971. "That son of a bitch was going to leave me," Jeffery said. "If I lost him, I'd lose everything."
Jeffery collected on the star's $2 million life insurance policy. He was reportedly killed in an unexplained 1973 airline crash over France. His remains, however, were never found. Eric Burdon, Experience bassist Noel Redding, among others, have speculated that the former MI6 demolition expert checked baggage but never boarded the flight.
"If it is possible to maintain consciousness after death," wrote Noel Redding in his memoir, "then Jimi must be in agony."
But, in spite of it all, surely not. Jimi once said, "My goal is to be one with the music. I just dedicate my whole life to this art." Few doubt that he achieved this. During his all too brief life, he taught us that "with the power of soul" anything is indeed possible.
The eagle took me past the outskirts of infinity, sang the Voodoo Child. … And if I don't meet you no more in this world, then I'll meet you in the next one, don't be late.
*** 
MACHINE GUN:
THE MAN WHO MURDERED JIMI HENDRIX?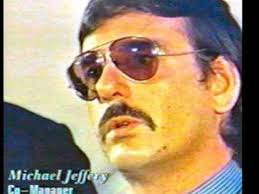 I pick up my axe and fight like a bomber now,
but you still blast me down to the ground.
Before becoming Jimi Hendrix's manager, Michael Jeffery had been a covert op for British Intelligence. According to one of his original clients, Eric Burdon of the Animals, Jeffery often boasted of his 007 escapades during the Cold War — staging assassinations in Greece, torturing KGB agents, blowing up Russian/Egyptian bases in the Suez.
The Animals' singer, Jimi's future close friend, took these stories as drunken tall tales  until, early one morning, the former MI6 agent invited him out to the London harbor where the U.S. Seventh Fleet happened to be trolling for some lost nukes. His manager emerged from the water in scuba gear, holding a black box. Pointing out to the armada, the ex-spy pulled a switch: suddenly the harbor was rocked with underwater explosions.
"Like most people of felonious intent," Burdon wrote in his memoir, "he was charming, attractive, and sometimes a riot to be around."
Jeffery had made the transition from demolition and espionage to rock and roll by studying under "The Al Capone of Pop" himself, Don Arden. Also known as "The English Godfather,"Arden, Sharon Osbourne's father, went on to manage the Small Faces, Electric Light Orchestra, and Black Sabbath. He was known for his old-fashioned business methods – bribery, blackmail, assault, kidnapping. Jeffery proved his own mettle against his mentor when he stole the Animals away from him without losing life or limb.
The retired spy parlayed his MI6 and Arden experience to become a rock and roll Dr. No. "His own mob sprang up around him like morning mushrooms," Burdon wrote. "… His main enforcer was The Turk, a nasty bastard whose tools of choice were an ax and two highly trained German shepherds." The singer went on to describe how Jeffery burnt down his Club Marimba for the insurance money, then how he absconded with the Animals' money.
In the fall of 1966, the Animals' bassist, Chas Chandler, discovered Jimi Hendrix in New York, flew him to London and introduced him to Jeffery. The two co-managed the guitarist and helped him assemble the Experience. Several years later, Chas and Jimi became estranged due to creative differences. "The window of opportunity was there for Jeffery to scoop it all up," he said. "I knew that something dodgy was gonna happen. But I never dreamt it would lead to his [Jimi's] death."
In his own memoir, bassist Noel Redding described Jeffery's fondness for guns, throwing knives, electronic bugging devices, and roadie spies. As for his financial skills, to discourage frivolous audits, the ex-spy kept all his business records in Russian.
Jeffery toured Jimi and the Experience relentlessly after their apotheosis at Monterey Pop in'67. By '69, the guitarist was earning $100,000 per gig, but was too exhausted and drugged out to realize that he was virtually broke while Jeffery was a multi-millionaire with off-shore numbered bank accounts.
At last, burnt out on touring, Jimi told his manager he was disbanding the Experience. No sooner did he reveal his intention than he was busted for heroin possession in Toronto. He came to suspect that Jeffery, desperate that he might lose his cash cow, had engineered the bust so he, Jimi, would be forced to keep the Experience alive to foot his legal expenses.
Four months later, just after Woodstock, Hendrix was kidnapped at gunpoint, held hostage for several days, then "rescued" in a dramatic shoot-out at his Woodstock compound. Soon he came to suspect that his manager was behind this intimidation too.
Still refusing to surrender to Jeffery and revive his golden goose, the Experience, Jimi formed the Band of Gypsys. At their premiere Madison Square Garden gig in January of 1970, Jimi collapsed on stage after only a few songs. Buddy Miles insisted he'd seen Jeffery slip him two tabs of bad acid. "He didn't want Jimi playing in an all black band," the Gypsys' drummer declared. "One of the biggest reasons why Jimi is dead is because of that guy."
Later that summer, Hendrix escaped New York for London, telling his friend and future biographer, Sharon Lawrence, "Lately I've been thinking that I'm circled by wolves."
By this time, terrified of Jeffery, the star was in secret negotiations with Miles Davis's manager, Alan Douglas. Hearing through one of his informants in Jimi's entourage of the possible defection, Jeffery accused Douglas of "trying to steal my artist."
After his Isle of Wright performance, Jimi lay low in London trying to avoid Jeffery who had followed him there. Meanwhile, he finalized a new management deal with Douglas.
On the morning of September 17, Douglas phoned Hendrix's New York lawyers, informing them that he would be relieving Jeffery of his management duties. Meaning, not only would Jeffery lose his cash cow, his nemesis Douglas would, in taking over the books, discover his embezzlement and mismanagement over the years. Meaning the end of Jeffery's career, if not imprisonment.
The next morning an ambulance, called by an unidentified party, screamed to the Samarkand Hotel where Hendrix was staying with his girlfriend, Monika Danneman. The paramedics found the door open, the flat abandoned, and a body on the bed covered  in vomit.
Dr. John Bannister, the physician on duty at St Mary Abbot's hospital when the ambulance arrived, later testified: "Jimi Hendrix had been dead for some time… Red wine was coming out of his nose and out of his mouth. It was horrific." He described how he tried to clear the singer's windpipe with an 18-inch metal sucker, but finally gave up due to the inexhaustible volume of liquid.
"Someone apparently poured red wine down Jimi's throat to intentionally cause asphyxiation after first causing barbiturate intoxication," Dr. Bannister concluded. "Without the ability to cough he was easily drowned."
Waterboarding and Forced Ingestion were commonly used by MI6 and other intelligence agents during the Cold War. It was a preferred interrogation or assassination technique since it left no marks on the body.
Almost no alcohol was found in Hendrix's blood. Moreover, friends stated that he didn't drink red wine.
The coroner, Dr. Gavin Thurslon, listed the cause of death as "inhalation of vomit following barbiturate intoxication." As for the cause of this fatal condition itself, the pathologist left an "open verdict."
The paramedics, doctors, and hospital staff did not learn that the victim was Jimi Hendrix until later on. To them the body seemed to be just that of another anonymous black man who had ODed.
Within hours of Jimi's death, all his hotel rooms and crash pads in London as well as New York were turned over: clothes, instruments, writings, drugs — everything vanished. An investigation was not launched until twenty-three years later when all evidence was long gone.
Noel Redding, who died all but penniless in 2003, wrote that murder was "a distinct possibility."
In his 2009 title, Rock Roadie, James Wright wrote that Jeffrey, his employer, confessed to the murder in 1971. "That son of a bitch was going to leave me," the manager said. "If I lost him, I'd lose everything."
Instead, he gained a fortune: his management contract was renewed by default, he reaped the immense profits of posthumous record sales, and he collected on a $2 million dollar insurance policy which he had taken out on the star.
Michael Jeffery reportedly perished in a plane crash over France in 1973. But his remains were never found. Eric Burdon, Noel Redding, and others believe he may have checked luggage but slipped away during the boarding process. Jeffery was due in London court the very next day to defend himself in several huge lawsuits relating to his embezzlement, money laundering, and fraud.