JOHN LENNON:
THE WALRUS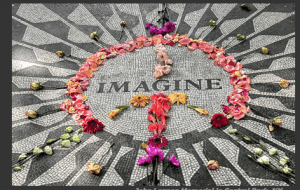 In Memoriam: 
JOHN LENNON & J.D. SALINGER:
Catchers In the Rye
"… I hope the hell when I do die, somebody has sense enough to just
dump me in the river or something. Anything except sticking me
in a goddam cemetery. People coming and putting a bunch of flowers on
Sunday, and all that crap. Who wants flowers when you're dead? Nobody."
The Catcher in the Rye.
Except for kids and carousels, about everything annoyed the hell out of Holden Caulfield. Made him want to puke. Killed him. The only life worth living for the 16-year-old flunk-out, the voice of generations, was to catch kids before the morons, perverts, and phonys ran them off some crazy cliff.
Last week, the boy's 91-year-old creator, J.D. Salinger, went off the cliff without bidding his readers goodbye. His second wife (Colleen, 51) and two children (Margaret, 50, and Matthew, 44) have honored his wishes: no funeral, no flowers or any of that crap.
Not even a tombstone. Holden had made himself clear about that too. If he "sat right the hell on top of an atom bomb," he didn't want some stupid tombstone with his name and dates on it. Because "right under that it'll say, 'Fuck you.'" Every time he stumbled on someplace that seemed "nice and peaceful," the teenager found that some pervert had already left him this Hallmark greeting. Which is what made him want to ride an atom bomb to begin with.
After the novel became an overnight sensation in '51, Salinger retreated to the White Mountains. In a rare interview with the New York Times in '74, he said he continued to write here "for my own pleasure" but found "a marvelous peace in not publishing."
At the time of the interview, another historic artist was living in the gothic Dakota apartments, a stone's throw from Holden's Central Park haunt at the duck pond. Like Salinger, this star would tire of fame ("where things are hollow"), and get off the merry-go-round, singing "I just had to let it go."
And like Holden's reclusive creator, the ex-Beatle had just wanted peace, too. "We're only trying to get us some peace," he sang. "Christ you know it ain't easy, you know how hard it can be. The way things are going, they're going to crucify me."
John was J.D.'s soulmate in other ways, as well. He dug Jesus, but called the Disciples "thick and ordinary." He mourned the loss of his youth, singing "when I was boy, everything was alright." And phonys drove him crazy, too.
But the musical prophet and the literary prophet parted ways on deliverance from the craziness. The first sang about love and peace; the second wrote about catching innocents. But how? Salinger never bothered to say. His love life had been even more purgatorial than Lennon's, providing little hope of a universal version. As for his famous cliff, his first wife said the moody novelist had nearly driven her "over the edge" and to suicide.
Fittingly, his suicidal young hero wrote his manifesto from the loony bin. Holden went crazy in a crazy world. It was only normal. In fact, he liked crazies. "The guy I like most in the Bible, next to Jesus, was that lunatic and all, that lived in the tombs and kept cutting himself with stones. I like him ten times as much as the Disciples."
The words were a heavensent for another suicidal psychiatric patient, this one real: Mark David Chapman. The Catcher in the Rye was gospel for the former YMCA youth counselor and reborn Christian. Holden Caulfield became his new idol, replacing John Lennon.
At first the two had seemed like the same person to Chapman. Then he decided that the Workingman's Hero was a bigger phony than anybody else. "He told us to imagine no possessions" the assassin later explained, "and there he was, with millions of dollars and yachts and farms and country estates, laughing at people like me who had believed the lies and bought the records and built a big part of their lives around his music."
Days before Lennon's fateful meeting with Salinger's incarnated hero, he discussed in a last interview his "guilt for being rich, and guilt thinking that perhaps love and peace isn't enough and you have to go and get shot or something."
Now he is in Strawberry Fields, under flowers and a stone Imagine star.
From his peaceful New England retreat, Salinger himself never spoke of the assassination. And now that he has gone over the cliff without so much as a marker or parting revelation, we are left to wonder if there will ever be another Catcher in Rye, much less answers to his goddamn crazy questions.
JOHN LENNON & THE IMMORTAL 9
On October 9th, Yoko Ono, in honor of what would have been John Lennon's 70th birthday, will light his Peace Tower in Iceland, and perform a memorial concert.
The number 9 always had profound significance for John, especially after first meeting Yoko at a London art gallery on November 9, 1966. His second wife was a serious student of the occult and of Cheiro, the father of modern numerology.
Like John, she too identified herself as a Number 9 person, the sum of the numbers of her own birthday on the 18th (of February, 1933).
Cheiro stated that 9 represented creative, universal consciousness. He characterized Number 9 personalities as fiercely independent, energetic, strong-willed and domineering, often subject to great struggles in youth, but great success later on.
The number played uncannily in the lives of John and Yoko. Due to many previous miscarriages, plus John's low sperm count, doctors told Yoko she had little chance of conceiving: but she delivered Sean by Caesarian on October 9, 1975. She subscribed to the Asian superstition that a child born on his father's birthday would inherit his soul.
Yoko had suffered three earlier miscarriages. The second had occurred on October 9, 1969, on John's 29th birthday.
After their marriage that year, John had immersed himself in numerology. With Yoko's guidance, and that of her many astrologers, he governed his latter life according to her numbers. In one of his last interviews, he told Playboy magazine: "She's the teacher and I'm the pupil. She's taught me everything I fucking know."
He had written the famous "Revolution 9," "#9 Dream," and "One After 909." By 1978, the former Beatle told his tarot reader, John Green, "The big plan is that I do nothing for the next four years. Mother [Yoko] says that everything I do is doomed to failure until the year 1982. That year, according to the numbers, I'll conquer the world again."
In Dakota Days, Green writes of Lennon's dedicated mystical practices – his meditation, his psychic training, his cleansing fasts, his vows of silence, his Tarot study. His card was the 9th, The Hermit, representing contemplation and introspection.
Green, who did daily readings for Lennon, predicted that 1980 (1 + 9 + 8  +0 = 18 / 1 + 8 = 9) would be a big year for him. On his October 9th birthday that year, he released the single "Starting Over" from his new album with Yoko, Double Fantasy."Let's take a chance and fly away somewhere alone," he sang. "It's like we both are falling in love again. It'll be just like starting over, starting over."
But, two months later, he was gunned down in front of the Dakota by a demented former fan, Mark David Chapman. The fateful date was December 8. But, as his first wife, Cynthia, pointed out in her own biography, it was the 9th in the place of his birth  — Britain.
According to Robert Rosen's, Nowhere Man, The Final Days of John Lennon, Chapman, obsessed with Salinger's The Catcher In the Rye, meant to write its final, missing chapter – 27 – in Lennon's blood. Asserts Rosen: "It's as if 27, the triple 9, formed a numerological Bermuda Triangle that has swallowed at least five great musicians." Referring to all those who died at age 27 (Brian Jones, Jimi Hendrix, Janis Joplin, Kurt Cobain, and Jim Morrison (born on Dec. 8, Lennon's death day), Rosen calls 27 "the unluckiest number in rock'n'roll."
Years before Chapman had pursued Lennon, the ex-Beatle had been targeted by another psychiatric patient. Charles Manson was obsessed  with John's "Revolution 9," believing it was based on the Book of Revelations' Chapter 9, and predicted the "Helter Skelter" Armageddon to come. In 1969, hoping to involve Lennon in his apocalyptic revolution in the California desert, Manson wrote and phoned the singer repeatedly, but without a reply. John and Yoko were doing their Toronto bed-in for peace at the time. At last the cult leader and serial murderer wrote the Revolution composer a blood-soaked letter.
A student of history, and of ancient civilizations in particular, Lennon was aware of the enormous significance many cultures attached to numerology, especially to the number 9. There were 9 muses and 9 choirs of angels. The Greeks and Romans buried their dead the 9th day, and held memorial feasts for the deceased every 9th year. Yet, it was also a number of rebirth. Christ remained on the cross for 9 hours before the burial and resurrection. The deceased Pope is mourned for 9 days.
Nine is unique in being the only number which, when multiplied by any other, always reproduces itself (e.g. 9 x 6 = 54; 5 + 4 = 9). For this reason, it is regarded by numerologists as the symbol of indestructible matter. For the Egyptians, Greeks, and Freemasons too, it signified eternity. The Aztecs believed that the soul passed through nine stages to final rest.
And so, it is a fitting symbol for the great, immortal artist that was and is John Lennon. In honor of this, Yoko Ono opened his Strawberry Fields monument on Oct. 9, 1985. And now, celebrating his 70th birthday, she will light his Peace Tower at the top of the world.
"I'm not afraid of dying," John had once said. "It's just like getting out of one car and into another." So he got out of his limousine and, minutes later, revolver-shot, was carried into an NYPD squad car. The car sped for the hospital, its sirens screaming  as had the blitz raid sirens outside the London hospital where he had been born on October 9, 1940.
"Turn off your mind, relax and float down stream / It is not dying, it is not dying," he had sung on Revolver's "Tomorrow Never Knows," channeling  The Tibetan Book of the Dead. "So play the game Existence to the end, /Of the beginning, of the beginning."