THE ROCK AND ROLL BOOK OF THE DEAD
The Fatal Journeys of the Rock's Seven Immortals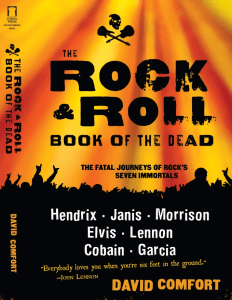 A truck driver, a bowling alley waitress, a janitor, a paratrooper, a homeless poet, a hippie guitar teacher, a penniless art student: all had humble beginnings. But the Seven were destined to become the pioneers of modern rock and roll. Cultural icons. Apostles of the pop Vatican.
"We're more popular than Jesus Christ," said John, later declaring that he was Jesus Christ – claims that later led to his murder.
"Jesus shouldn't have died so early," said Jimi, "and then he would have gotten twice as much across." 
Four died at the age of 27, forming  "Club 27." Most had premonitions of an early end. 'I'm gonna be dead in two years," declared Morrison matter-of-factly at 25.  "I'm not sure I will live to 28," said Hendrix.
Destructiveness is the mysterious dark side of many creative geniuses. Each of the Seven had a fatal attraction. All but one had attempted suicide or threatened it. All became addicts. Most died of drug abuse. Had one not been fatally gunned down, he may well have met the same end.
"I'm going to be a superstar musician, kill myself, and go out in a flame of glory!" exclaimed Cobain. He called his group Nirvana, defining the term as "the total peace of death." Garcia, a student of The Tibetan Book of the Dead named his band The Grateful Dead. Morrison called his group the Doors, a gateway to the other world, and described his music as an "invitation to dark forces." Lennon, obsessed with the specter of "instant karma," said that when he finally met the reaper, "I'll grab him by both hollow cheeks and give him a big wet kiss right on his moldy teeth."
Much has been written about the founders of modern pop music but no title explores the mystery of their great commonality: their dark journeys to tragic ends.
The Rock and Roll Book of the Dead is distillation of every extant biography, weaving diverse points of view of insiders — as well as the words and music of the stars themselves — into a single, dramatic tapestry. A wealth of generally unknown and shocking facts are revealed. Elvis committed suicide. Both Hendrix and Cobain were murdered. Other revelations abound and are conclusively documented though official cover-ups persist.
The book traces to childhood trauma the fatal attraction of each artist. Lennon's mother was killed in a car accident. Both Elvis's and Hendrix's mothers died from drinking.  Garcia watched his father drown. Cobain insisted he had "suicide genes" due to the number of relatives who had taken their own lives. At age four, Morrison witnessed a highway carnage which he later called "the greatest event in my life." 
Like so many current artists, all Seven were obsessed with becoming stars. But, once achieved, the stardom became a gilded cage for each.
The pressures on these legends were crushing. The fans demanded that they continually create music that was revolutionary, new, and yet cloned from the old hits. They were expected to perform night after night, year after year, with the same level of artistry, energy, and enthusiasm. In spite of their resistance, they became commercial enterprises, hundreds and even thousands of employees depending on them. Being mobbed by fans, chased by paparazzi, harassed by the press soon lost its novelty for them. They were surrounded by hangers-on, headcases, and unscrupulous handlers. Public commodities, they had little privacy and no time to themselves.
For each, drugs provided a temporary escape from the divine expectations of their audiences. Without doubt, these musicians were geniuses and voices of the greatest youth movement in cultural history. But they were not gods. The usual fate of earthly dieties, real or imagined, is well known: martyrdom.
"Maybe my audiences can enjoy my music more if they think I'm destroying myself," said Janis before her fatal overdose.
The more famous the stars became, the more isolated, lonely, and self-destructive they became. Though worshipped by millions, all suffered ill-starred romances – abandoning those who had truly loved them, and gravitating to those who used them and buried them.
As the careers of the Seven prove, being a living legend can be a heaven turned hell. But, due to their overpowering ambitions, none realized the toxicity of fame until it was too late and each suffocated in their superhuman images. They died for their music just as surely as they had lived for it. Though the careers of most had been brief, in the end most were exhausted, drained, burnt out.
At 43 Elvis was bloated, nearly broke, collapsing on stage, and addicted. The suicidal Cobain was quitting Nirvana, divorcing Courtney and writing her out of his will. Lennon was about to be divorced by Yoko, his "cosmic twin," whom he said he couldn't live without. Janis, who OD'd six times in her last year, was contemplating suicide. Before his swan song concert, a wasted Hendrix told his bandmates, "I'm dead already." After thirty-three years of relentless touring with the Dead, Jerry Garcia, a twenty-year addict, muttered, "Why live?" And, when quitting the Doors, the alcoholic Jim Morrison spoke for all when he said, "I don't want to be a rock and roll star anymore, I hate it."
As John Lennon sang before "getting off the merry-go-round," "Fame, puts you there where things are hollow; Fame, what you like is in the limo; Fame, what you get is no tomorrow."
Star biographies come in two varieties: the eulogy or the exposé. The first kind, often authorized by family, enlarges on legend and shuns critical information. The second kind, often denounced by insiders, diminishes its subject, while overlooking the positives. Like kings and queens of old, today's royalty – the stars — have their subjects on one side, and their enemies on the other, and both know that the pen can be mightier than the sword.
The greater truth of an historic personality does not adhere to either extreme or to any prejudice. So here, for the first time, these personalities will be portrayed from an impartial point of view committed not to adulation or defamation, but to the truth. Just gimme some truth now," sang John Lennon, on Imagine. All I want is the truth. This work is dedicated to that call.
The Rock and Roll Book of the Dead contains more dramatic and controversial information about the magnificent Seven than any other work. They are revealed as brilliant and charismatic but deeply conflicted and troubled human beings—very different from the legends we thought we knew. But, in the end, it is their very humanity and struggle which inspire our love and compassion, not their legend.
In our age of American Idolatry, this exposé will afford even the most ardent fans a stunning new perspective on the too often tragic price of super-stardom. Part rags-to-riches tale, part love-and-loss drama, part murder mystery, part exposé and penetrating analysis, The Rock and Roll Book of the Dead is a revolutionary addition to the greatest rock literature of our time.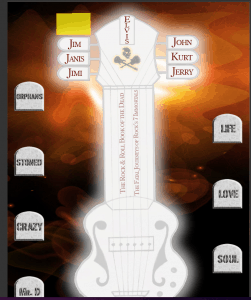 HOW THIS BOOK IS DIFFERENT
When The Rock and Roll Book of the Dead was first sent to publishers they asked: With all the rock titles about these legendary seven stars, why write another? Are you bringing something new to the table? Something intriguing? Thought-provoking? Challenging? Outside the box?
The answer was and is yes on all accounts. Else I wouldn't have undertaken the decade-long task of researching and writing it.
Readers look for many different things in a book. But all seek one thing above all else: a work that is new.
New comes in two forms: new facts or new interpretation. Hundreds of biographies have been written about Mozart and Beethoven, for example. Original biographers exhausted the facts of their lives many years ago, but enlightening biographies continue to be written. How? They connect and contextualize the existing facts in a different way – telling a deeper and entirely unique story about a legendary personality.
Recent portraits of the stars –Norman's on Lennon, Cross's on Hendrix, for instance– have been factual retreads of their predecessors. A few negligible new factoids are spliced into their enormous bulk, but a fresh perspective is lacking. If a biography is a forest of trees, these works give us shrubs, while doing little to change or sharpen our view of the larger picture: the complex wilderness that was John Lennon, or Jimi Hendrix. Or Presley, Joplin, Morrison, Garcia, or Cobain.
The Rock and Roll Book of the Dead is dedicated not to minutae but to changing the face of the forest itself and revealing these legendary personalities individually and by comparison in a unique way.
"Rock and roll books," Frank Zappa, of the Mothers of Invention, famously observed, "are written by writers who can't write, for readers who can't read."
This book has been written for readers who like to be challenged and explore deeper themes. In this sense, it is a thinking man's rock title. It also invents its own genre: neither a simple biography, or collection of biographies, it is the dramatic study of seven very different lives unified in their struggles and their common tragic ends.
The book is unique in its outsider perspective. Most of the biographers of these seven stars are family members, friends, lovers, employees. Indisputably these insiders have the facts, but many also have an agenda: to support and reaffirm the almost godlike mythology of these stars. All Seven were geniuses, pioneers, and titans – but deities they were not, and never tried to be. In portraying them as such, insiders become air brush artists, eulogists. They do a disservice to the reader in search of unbiased truth, no less than to the Seven, all of whom were smothered by such deification.
As Bruce Springsteen once said: "The biggest gift your fans can give you is just treatin' you like a human being, because anything else dehumanizes you. And that's one of the things that has shortened the life spans, both physically and creatively, of some of the greatest rock and roll musicians."
This title is dedicated to Springsteen's proposition. Its unique purpose is to resurrect the stars by revealing them as who they really were –human beings, not gods. Mortals with all the fears, frailties, insecurities, and conflicting emotions as the rest of us – but struggling to survive the crucible of fame, too. This is the central theme: the hell inside the heaven of superstardom. How being a "living legend" can be a gilded cage, an Everest without oxygen. The theme is especially timely in light of today's American Idol you're-nobody-if-you're not-a-star culture.
As John Lennon sang before "getting off the merry-go-round," Fame, puts you there where things are hollow; Fame, what you like is in the limo; Fame, what you get is no tomorrow.
But in fact, Lennon and the others, spiritual pilgrims all, got more than tomorrow. They got immortality. But Why? How? And at what price?
The Rock and Roll Book of the Dead is the first to explore the fatal similarities of these seven stars underlying their differences. All endured lonely, troubled childhoods. All were volatile, hypersensitive, compulsive, bi-polar. All suffered disastrous affairs and/or marriages. All were consumed by a love-hate for their celebrity. All became drug addicts. All battled creative and spiritual emptiness. And, from early on, most felt predestined to an early end.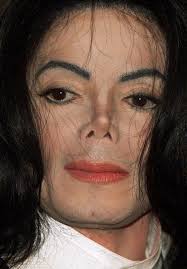 THE PRICE OF SUPERSTARDOM
"… People thought that if I kept living in seclusion the way I was, I might die the way he [Elvis] did. The parallels aren't there as far as I'm concerned… Still, the way Elvis destroyed himself interests me, because I don't ever want to walk those grounds myself."
Michael Jackson, from his autobiography, Moon Walk, 1988
Lisa Marie Presley recalled how one day in 1993 her husband told her "with an almost calm certainty, 'I am afraid that I am going to end up like him, the way he did." Lisa concludees: "The exact Scenario I saw happen on August 16th, 1977, happening again right now with Michael just as he predicted."
All of the legendary rock stars in my THE ROCK AND ROLL BOOK OF THE DEAD, The Fatal Journeys of Rock's Seven Immortals, also predicted an early demise for themselves. "I'm dead already," said Jimi Hendrix, shortly before his abrupt and mysterious end at age 27. "I wonder if I'll get as much publicity as him," said Janis Joplin, who fatally ODed six weeks later, also at 27. "You're drinking with Number 3," Jim Morrison toasted his friends shortly afterwards. Cobain wanted to go out "in a flame of glory like Hendrix." He, too, joined Club 27.
John Lennon had premonitions of an early, violent end. Jerry Garcia was amazed to reach 53, having clinically died in the hospital nine years before. And Elvis, who had many close scrapes with mortality like the others, had always felt predestined to an early grave.
His daughter went on:  "I became very ill and emotionally/spiritually exhausted in my quest to save Michael from certain self-destructive behavior and from the awful vampires and leeches he would always manage to magnetize around him."
The women of the seven doomed stars said much the same thing, desperately trying to, as Lisa Maria puts it, "save them from the inevitable."
Her mother, Priscilla, tried the rescue Elvis, as did his other great love, Linda Thompson. Once Linda asked him what his greatest fault was. Without hesitation, the King replied, "I'm self-destructive. But there's not a lot I can do about it." The other stars conceded the same and, in his own way, so did the Prince of Pop.
We, the fans, are not only saddened, devastated, by the news of his passing – but we are uncomprehending. Michael Jackson and the others achieved what the rest of us can only dream of – how could they throw it all away? What is this hell inside the heaven of superstardom that consumed them all?
"I must confess I am not surprised by today's tragic news," said Jackson's friend and publicist, Michael Leaven. "Michael has been on an impossibly difficult and often self-destructive journey for years. His talent was unquestionable but so too was his discomfort with the norms of the world. A human is simply cannot withstand this level of prolonged stress."
Prolonged stress is a euphemism for the crushing pressure of public adulation and demand; living up to an near-divine image; breathing in a fishbowl; relinquishing all privacy; being the never-ending object of gossip and rumor; being surrounded by exploiters and parasites; and, in the end, finding oneself utterly alone and loveless in spite of the adoration of millions.
All of the martyred stars were distinctly different in personality. But they became much the same in trying to maintain health and sanity in the purgatory called superstardom. Elvis and his son-in-law, Michael, were especially alike.
"Ambition," said Elvis, "is a dream with a V-8 engine."
All of the stars started with a super V-8. Particularly the two Kings. Michael's ambition was to be even bigger than Elvis. After releasing the world's biggest album – Thriller (109 million sold) – Jackson set to work trying to break his own record, and Elvis's too. Meantime, rock's eternal Peter Pan, built the child's paradise, Neverland, as the boy Elvis had built Graceland years before. He wore the same fantastical costumes, indulged in every material extravagance, but gave to charity almost more than Elvis himself.
In 1984, Michael visited the White House and President Reagan decorated him for his huge contributions to drug abuse charities. Thirteen years before, President Nixon rewarded Elvis with a coveted BNDD (Bureau of Narcotics and Dangerous Drugs) badge, enlisting the King to be the adminstration's "ambassador" in the War on Drugs.
By this time, though few knew, Elvis was addicted to prescription narcotics. He insisted he needed his "medicine" for many ailments including glaucoma, hypertension, insomnia, and — according to rumor – lupus, a deadly auto-immune disease brought on and exacerbated by stress.
His son-in-law was said to have been diagnosed with lupus in 1985. And he, too, began to suffer from an array of other afflictions.
Michael Jackson's drug abuse didn't come to public attention until 1993. He'd recently suffered a series of mishaps: He had been badly burned while filming a Pepsi ad, he'd broken a leg, he'd injured his back. Then he was charged with child molestation. To cope, he began consuming great quantities of Oxycontin, Ativan, Xanax, and Valium. When they overwhelmed him, he cancelled his Dangerous tour, and checked into rehab just as Elvis himself had done many times two decades before.
Then Michael married Elvis's daughter. "I wanted to save him," Lisa Marie said. "I felt that I could do it." But she couldn't. She filed for divorce two years later. Her mother, Priscilla, hadn't been able to save Elvis either. She had filed for divorce after six years. Just as Elvis had rapidly deteriorated after his marriage failed, so too did Michael.
2005 was a horror for the King of Pop. His drug dependency worsened with a second, circus-like trial for child molestation. Though acquitted, he fled in disgrace for Bahrain. His records sales had plummeted, he was rumored to be on the brink of bankruptcy. Moreover, he was no longer known as the King of Pop, but as "Jacko the Wacko."
Elvis suffered the same purgatory in the last years of his life. His sales too were in the tank and he had to borrow against Graceland to stay afloat. He was called a rock and roll dinosaur and had become a stumbling, obese parody of himself. And, his closest old friends, his bodyguards, were publishing drugstore tell-all, revealing him as a crazed, gun-totting junkie.
In the last twenty months of his life, the King was prescribed 12,000 Schedule 1 substances and injectibles: Demerol, dilaudid, Seconal, Tuinol, Placidyl, Valmid, Quaalude, among others. He died just before dragging himself back on the road, hoping the tour would rescue him from professional and financial disaster. The coroner discovered eleven major narcotics in his system. However, his personal physician, prescriber, and enabler, Dr. George Nichopolous, aka "Needle Nick, declared that Elvis had died of "cardiac arrest."
In 2007, a Beverly Hills pharmacy sued Michael Jackson alleging that he owed more than $100,000 for prescription drugs. Just before his death, he begrudgingly consented to a tour, hoping for financial and professional resurrection.
Meantime, the cause of death for the King of Pop is the standard for superstars: cardiac arrest. And again we see the tragic price of pop immortality. But American Idols will continue to crave as if it were salvation itself.
DANGEROUS FRUITS
After the publication of The Rock and Roll Book of the Dead in 2009, I contacted prominent biographers of the stars, asking if they might like to review the title. Several declined to do so because of the focus of the book: Death. They felt that any such title would be "doom and gloom," morbid, and exploitative. They preferred a focus on the stars' vitality and creativity.
This study does indeed concentrate on the extraordinary creativity of the Seven. But the fact that all died young, four of them at age 27, cannot be ignored. Nor that all had contemplated suicide, and that at least two had actually tried (Hendrix, Cobain). Nor that four (Elvis, Lennon, Garcia, Hendrix) had miraculously survived horrific car accidents , and that the other three (Morrison, Janis, and Cobain) were kamikaze drivers themselves. Nor can any responsible biographer gloss over the fact that six died from drug abuse and that the seventh, John Lennon, may have done so as well (as he nearly did during his "Lost Weekend," 1974-75) had he not been gunned down by a demented reborn Christian.
If these fatal attractions cannot be overlooked, how do we understand them in the context of the unparalleled creativity of the Seven?
Quite simply, like other extraordinary but unstable artists of history – whether musicians, writers, painters – all Seven had self-destructive tendencies. When his lover, Linda Thompson, asked Elvis what his greatest fault was, he told her: "I'm self-destructive. But there's not a lot I can do about it." The other six stars freely admitted this, too.
Each was a high-wire artist working without a net in the world's most explosive and dangerous business: rock and roll. Living on the edge stoked their creative fires and made their art all the more urgent, intense, and mesmerizing to fans. They all lived and rocked the way they drove: at 200 mph and passing on blind curves (the way Janis, Jim, and Jimi did down Mulholland; and Elvis on EP Boulevard). In the end, they all died by rock and roll just as surely as they had lived for it.
Destructiveness and excess can be the other side of the creative coin. Freud's life-drive / death-drive divide often at the heart of creative genius. As his student, Carl Jung, wrote: "Great talents are the most lovely and often the most dangerous fruits on the tree of humanity. They hang upon the most slender twigs that are easily snapped off."
DEATH:
TERMINATOR OR TRANSFORMER?
LAZARUS
A person views death in one of two ways: as Terminator, or Transformer. Most of us take it for the first. The Reaper. The Monster under the bed. We spend our lives looking the other way, or running and hiding. From the inevitable.
The Seven, on the other hand, all deeply spiritual, viewed Death as a Transformer. A teacher. A motivator. It scared them, sure. They were only human. But it attracted them, too. Each was born with enormous creative talent – where did it come from, and where did it go? Each pondered this question and in their soul knew that the end was not The End.
"The Maharishi told us that death is just an illusion, and we mustn't get depressed about it," said John after Brian Epstein, the Beatles' manager, ODed. "I'm not afraid of dying," he went on. "It's just like getting out of one car and into another." And so he stepped out of a limo at the Dakota then, moments later, was carried to the back seat of a NYPD squad car.
Turn off your mind, relax and float down stream. It is not dying, it is not dying, he sang in Tomorrow Never Knows, based on The Tibetan Book of the Dead. Lay down all thoughts, surrender to the void, It is shining, it is shining. So play the game existence to the end. Of the beginning, of the beginning.
Jerry Garcia was a student of the Tibetan bible too. When he first dropped acid, his friend and lyricist, Robert Hunter, saved him from a freak- out by reading him passages from the book. Captain Trips soon formed the Grateful Dead which he said was "all about the death of the ego." He married his second wife, Mountain Girl, in a Tibetan ceremony. Toward the end of his life, when he was diabetic, 300 pounds, his cholesterol 900, and his liver shot, he said, "Stick around – for THIS?" Soon, his ashes were spread in the Ganges.
Kurt Cobain called his group Nirvana, defining it as "total peace after death." He and Courtney kept a Tibetan sanctuary in their house. After his death, the widow had the Namgyal Buddhists make devotional tsatsas from his crematory ashes.
Just before Hendrix's end, a German fortuneteller, Clara Schuff, told him he was descended from Tibetan royalty and that in his next incarnation he would teach the magical astrology of Tibet. Hear my train a comin, sang the Voodoo Child. And if I don't meet you no more in this world then I'll meet you in the next one and don't be late, don't be late.
Jimi's lover, Janis, was "a very spiritual person… but afraid to let others see that," said her friend, Pat Nichols.
Janis's lover and nemesis, Jim Morrison, called himself a shaman and had studied the Tibetan Bon Po's who worshipped in graveyards. "People fear death even more than pain," said the Lizard King. "It's strange that they fear death. Life hurts a lot more than death. At the point of death, the pain is over. Yeah, I guess it is a friend, The End."
An avid reader, Elvis counted The Autobiography of a Yogi and The Tibetan Book of the Dead among his favorite works. In the late sixties, he became the student of Yogi Daya Maya at the Self-Realization Fellowship in Malibu. Telling her he sought "a higher level of spirituality," he pleaded: "I want to get there now. I want a crash course." By this time, the King was already dangerously addicted to prescription narcotics. Of his drug abuse, his step-brother, David Stanley, wrote: "It was like a fantasy to see how far he could go – almost as if he wanted to die – and come back, just to see the other side." In his final years, the singer often visited graveyards and dropped in on mortuaries to watch embalmings. "His fascination with human corpses was downright terrifying," recalled his old friend and bodyguard, Sonny West.
So, in view of all this, my book — in honor of its predecessor and the great meaning the stars attached to it — is called The Rock and Roll Book of the Dead. Within its pages Death is viewed as the stars themselves viewed it: as a Transformer, not a Terminator.
More than this, the life of each star was a series of purgatories – or "Bardo" states – challenging them, trying them and leading them to the End.