ROCK'N'ROLL DEMO DERBY
OFF THE ROCKER
STAR DEATH: THE SPECTATOR SPORT
BRIAN JONES: THE DROWING
DEATH: TERMINATOR OR TRANSFORMER?
***
ROCK'N'ROLL DEMO DERBY
The history of rockers and their car wrecks, fatal and near-fatal, is long and rich. Race car driving and playing rock and roll have much in common, not the least of which is the marriage of danger and excitement.
Most stars would agree with Mario Andretti. "Except for death," said the champion racer, "everything else is a minor injury."
Elvis totaled his first Cadillac in 1956 and would have many more close scrapes. But that didn't stop him and the Guys from playing Chicken in their Harleys at 120 mph on Elvis Presley Boulevard.
In addition to all the guitars and hotel suites he smashed up, Hendrix totaled six Corvettes in two years. Once, hurdling down the winding roads of Benedict Canyon, the unlicensed, severely nearsighted Jimi nearly flew off a cliff. He walked away from his Stingray cantilevered on a tree and promptly bought himself another.
Janis's Porsche Cabriolet Super C with its psychedelic paint-job, "was her pride and joy," remembered her producer, Paul Rothchild. "We both had Porsches. We'd race along Sunset Boulevard and Laurel Canyon. She was a lot crazier than I was – and I was nuts. She'd go against traffic on blind curves, with the top down, laughing, "Nothing can knock me down!"
Jerry Garcia who, like Lennon, lost his mother in a car accident, miraculously survived a crash of his own before founding the Grateful Dead. Later on, he was again spared when his BMW slammed through a freeway divider into oncoming traffic. Near the end, Phil Lesh, who had survived three near-fatal crashes himself, made the mistake of driving with a pissed-off, DUI Garcia to a detox facility. "To this day, I don't think I've ever been so frightened in a car," wrote Lesh. "… I had to wonder if Jerry was feeling suicidal – or murderous. I was shaky, and sweating bullets."
Cobain enjoyed destroying stuff as much as the next guy, especially Strats, amps, stages, tour buses, and whatever five-star hotel was foolish enough to book him. As for driving, the son of the Texaco mechanic told The Advocate, "I'm not that bad a driver, and I get in a wreck almost every day."
***
 The most colorful and adventurous demo derby competitor was Jim Morrison. In his Mustang Shelby GT, the ghostly Blue Lady, he parked on the railroad tracks and played Chicken with locomotives. Otherwise, the Lizard King bailed out of speeding cars and jumped into the middle of freeway traffic, playing matador with semis.
From the ordinary mortal point view, this might have seemed like the Titanic looking for an iceberg. But Morrison and his ilk had a different perspective. Each seemed to believe that, since an early end was their fate, they – like Achilles, Crazy Horse, or Evel Kneivel — were immortal before the clock struck twelve.
Lennon thought he was driving with karmic insurance, too, at least in the beginning. During the filming of HELP! in the Caribbean, he, Paul, George and Ringo, chased each other around at 100 plus miles per hour in rented Cadillacs. "It was a terrific feeling smashing up all those shiny limos," recalled John.
Returning home, George bought a Ferrari, and John — – though almost legally blind – decided he had to have one, too. Pitting his Dino against his friend, Pete Shotton's, Spitfire, he enjoyed what he called "the most fantastic kick I've had in ages!", while Pete described the experience as "the most hair-raising experience of my life."
Riding shotgun with the Beatle was even worse. "John was an appalling driver," wrote Cynthia Lennon whom he gave a VW bug. "His passengers suffered a hideous rollercoaster ride… at breathtaking speed." After shutting down Shotton, John took on Ringo in the drummer's Facel Viga, but retired from Nascar after nearly crashing into another motorist at 150 mph. Finally, he traded the Ferrari in on a Rolls after his racing rival and fellow kamikaze, Tara Browne, ran a light and drove his Lotus through a lorry in Kensington. He blew his mind out in a car, sang John on Day in the Life for SGT. PEPPERS, he didn't notice that the lights had changed…
But soon the Beatle nearly suffered the same fate. Driving his Austin Maxi with Yoko and their kids, he was grooving on the Scottish countryside when a ditch suddenly ambushed him.  "We're alive!" he cried, scrambling out from under the upside down coupe with Yoko, her daughter, Kyoto, and his son Julian.
He got seventeen stitches and a sculpture out of it. Yoko installed the wreckage on a pedestal outside the living room of their Tittenhurst mansion, calling it "A Tribute To Survival." Lennon's near fatal occurred on the same day that his friend, the Rolling Stones' Brian Jones, was drowned in his swimming pool.
***
OFF THE ROCKER
Mark David Chapman
As if the stars were not preoccupied enough with Mr. D, most received regular notes from him in the form of death threats. Generally, the number was proportionate to the star's fame. Elvis got the most, with Lennon a close second, followed by Garcia, Morrison and Hendrix. Janis and Kurt were largely ignored maybe because potential assassins felt that they were doing a good enough job killing themselves.
Elvis didn't get too concerned about his early death threats because they were mostly from boyfriends and husbands who couldn't take a little competition. The JFK assassination changed the King's tune. He now started collecting guns and bodyguards. Then, when the Manson murders went down, it was "as serious as a six-car pile-up," recalled Lamar Fike. Hearing that he was on Manson's hit list[1], Elvis, playing Vegas at the time, packed everybody up and took cover at Graceland. Now his gun collection turned into an armory worthy of Ford Dix, and his employees became the Secret Service.
"Goddammit, if anybody ever assassinates me, I want you guys to get to him before the police do," he ordered them. "I want you to pull his eyes out, rip his throat apart, and kill that son of a bitch!"
Since childhood, Elvis had been plagued with nightmares about manglers and murderers. He later became nocturnal due to his paranoia. "I stay up all night, and I have my friends with me, and I feel comfortable," he would later reveal. "In the morning when everybody else is up, I feel safe because it's daytime – and then I can go to sleep." Even then, he would sometimes crawl into bed with one of the Guys.
If the Manson murders woke up the King, a few months later Altamont roused the rest of the rock community. The Grateful Dead, an organizer of the free concert along with the Rolling Stones, refused to play after the Hells Angels' homicidal mayhem set in. Now the great post-Altamont guns-for-guitars swap began. Jagger and Richards, whom the Angels put a contract out on, started packing heat and security teams. According to a 2008 BBC documentary, the motorcycle gang hatched a plot to assassinate Jagger in 1969 at his Long Island holiday retreat. Attempting an assault by sea, they might have succeeded had their boat not capsized during a storm. So did Zeppelin, the Who, Dylan, and all the other major acts. The days of All You Need is Love had given way to Let It Bleed and Sympathy for the Devil.
Though Jerry Garcia, a long time friend and champion of the Angels, left the speedway unscathed, plenty of death threats came his way in the next twenty years. By the time he got his last one before an Indiana concert in '95, he'd become stubborn. Security begged him to cancel the Dead show but he refused, saying, "There's no way I'm going to let that stop me; hell no. I've been getting crackpots all my life."
Like Elvis, John Lennon got his first death threats early on. They came from drunk German sailors whose girlfriends he scored at the clubs, or from the ones he rolled for Deutsche marks in the back alleys of Hamburg. But he didn't get his first official notice until '66 after the Jesus-Beatles comparison. He took the threat pretty much in stride until, soon afterward, a psychic told him he would be shot down during his upcoming U.S. trip.  "I was totally paranoid the whole time," he said of the Beatles' last visit to the states which he dubbed "The Jesus Christ Tour."  "Everywhere we played I was just waiting for something dreadful to happen." On stage in Memphis, he heard a firecracker go off which he mistook for a gunshot. "My immediate reaction was to check meself to see if I'd been hit," he recalled. '"Fucking hell,' I thought. 'At least they haven't gotten me!"
 ***
BRIAN JONES:
THE DROWNING
Forty years ago, Rolling Stones' founder, Brian Jones, drowned in his swimming pool. At the time, 1969, authorities called it "death by misadventure." The Sussex police have just announced that they may reopen the case as a homicide. The decision is based in part on a recent eyewitness report that the guitarist was in fact drowned by his live-in carpenter, Frank Thorogood.
Before dying of cancer in 1994,  Thorogood himself was said to have confessed the murder to Stones' chauffeur, Tom Keylock. In her 2001 memoir, Jones's girlfriend, Anna Wohlin, another eyewitness to the tragedy, also fingered Thorogood. She alleged that band managers put her on the next plane back to Sweden, threatening her life should she talk to authorities.
The Jones case harks back to that of his friend, Jimi Hendrix, who died in London a year after being "drowned in red wine," according to the coroner. In 1993, the case was reopened by Scotland Yard as a possible homicide only to be reclosed months later due to insufficient evidence.
Similar mysteries surround other deceased stars, notably Kurt Cobain and, now, Michael Jackson.
Strangely, many had predicted early ends for themselves. Like Jones, both Hendrix and Cobain (as well as Morrison and Janis) died at age 27. Once Jones, while tripping on acid, was told by his bandmate, Keith Richards: "You'll never make thirty, man." Brian replied: "I know." Not long before, when the guitarist saw a goat being led to slaughter in Morocco, he had cried, "That's ME!" The Stones laughed and agreed.
In her autobiography, Jagger's ex-lover, Marianne Faithfull, related how he and and Keith had "a real vendetta," against Brian, and "unmercifully taunted" him. Guitarist, Ry Cooder, observed the same thing during the Let It Bleed sessions, two months before the drowning. "Jagger was always very contemptuous of Brian and told him he was washed up," he recalled.
While the singer later conceded that he had been hard on his hypersensitive, drugged-out bandmate, he declared, "We carried Brian for quite a long time. We put up with his tirades and his not turning up for over a year."
At last the Stones traveled to Brian's Cotchford Farm, the former residence of Winnie-the-Pooh's A.A. Milne, and fired him. "I felt sorry for him," drummer Charlie Watts later wrote. "We took his one thing away, which was being in a band. I'm sure it nearly killed him when we sacked him."
Charlie and bassist, Bill Wyman, were the only Stones to attend his funeral weeks later.
Brian Jones's death by drowning was hauntingly uncanny. Days after the sacking, Mick and Marianne threw the I-Ching to see what the future might hold for him. "Death by water," came up. The prophecy was repeated on a second throw.
Perhaps this reminded Jagger of an incident the year before at Richards's country estate. Freaked over the possibility of jail time for his most recent drug bust, Brian plunged into Keith's moat, screaming that he was going to kill himself. Keith laughed while Mick dove into the water after him.
"You want to drown, you bastard?" he cried, dragging him ashore. "Well, I'm going to bloody well drown you, then. Look at these velvet trousers – cost me fifty quid. You've ruined them!"
Even Frank Thorogood, the resident carpenter at Cotchford, bullied him and berated him as a "pampered rock star." At last, Brian threatened to fire the contractor for shoddy work and for extortionate charges. That night, Thorogood drowned his employer in the estate swimming pool. Anna Wohlin, indoors at the time, insisted that Brian was a good swimmer and not intoxicated.
Two days later, the Rolling Stones – with new guitarist, Mick Taylor – threw a memorial concert for Jones in Hyde Park. Jagger read Shelley's "Adonais," then released two-thousand butterflies, most dead from suffocation.
Soon the Doors' Jim Morrison — who, two years later, would die on the same day as Brian — wrote "Ode To L.A. While Thinking Of Brian Jones, Deceased." Then the Who's Pete Townshend followed with his poem, "A Normal Day For Brian, A Man Who Died Every Day."
Marianne Faithfull had a different perspective on her ex-lover whom she called her "twin." "One of the things that keeps you alive when you're on the skids is that people care what happens to you," she wrote. "It's your life line, and with Brian nobody really cared anymore."
Except her. After Brian's death the As Tears Go By star took a massive overdose of Tuinol and fell into a six-day coma. "Everyone was taking his death so in stride, for God's sake!" she said. "Well, I thought, I'll show you! You want pain and suffering? I'll show you pain and suffering!" In her coma she was met by the resplendent ghost of Brian decked in medieval costume, his hair green, and "Buddhist lightning bolts tattooed on his palms."
Beckoning her to a cliffside, he called: "Death is the next great adventure… Coming?"
When Marianne finally opened her eyes, she found an incredulous Mick Jagger at her bedside. She tried to tell him her dream, but he refused to hear it. Then he left her for good.
"Either you're dead, or you move along," Sir Mick, the ultimate rock survivor, had always said.
http://culturecatch.com/music/brian-jones-drowning
***
STAR DEATH: THE SPECTATOR SPORT
 Of all modern performance artists –opera singers, instrumentalists, dancers, actors, acrobats, and even athletes and politicians — the rock star is the most electrifying. Others may get ovations, bravos, tears, gasps, or even awe from an audience, but the only artist who can dependably incite mass hysteria is the rock star.
Witness the mobbing, the fainting, the stampedes, the rioting that surrounded Elvis, the Beatles and, most recently, Michael Jackson.
The rock star's performance reconnects us with our primal, ceremonial roots. His spell over a crowd is like the shaman's – a tribe's link to supernatural powers. The ecstatic energy in the shaman's dance and song drives believers out of their minds, turning them into a single hypnotized organism which channels and boosts the energy of the performance itself.
Jim Morrison called himself "the Lizard King," a "shaman" and a "conjurer of dark forces." He was obsessed with "breaking through to the other side" both on stage and in life. Similarly, his one time lover, Janis, lived and performed on what she called "the outer limits of probability." When warned by friends that she would soon kill herself if she didn't rein it in, she said, "Oh man, I can't live that way. I want to burn. I want to smolder."
That flame consumed her just as surely as it did Morrison and most of the others. It was their proverbial burning-the-candle-at-both-ends, larger-than-life lives that made them stars. To them, life unplugged was no life at all. They cranked their amps to the max and still blew the circuitry. As if watching a slo-mo car crash and an epiphany, fans were transfixed and transported by the sound and the fury.
This is the profound irony of the deaths of these rock stars: it wasn't really self-destructiveness that killed them, it was their insatiable lust for life. More than that, as other extremists will admit – skydivers, race car drivers, matadors – some men never feel so alive as when they are playing with death, working the bull close with a velvet cape. And there is no spectacle like it.
This is why I focus on the falls of these stars – because they were modern day Icaruses who, driven by the crowds' defeaning cheers, flew too close to the sun. "In a sense," Sting once observed, "we're living the myth of the "Dying God," the Icarus myth. The Elvis Presley thing, the Sid Vicious thing. Society wants it and craves it."
The stars' deaths were the inevitable but tragic climax of lives and ambitions lived beyond limits. Something that both fascinates and terrifies us all because it goes to the heart of mortality and the insatiable but frail human condition.
***
DEATH: TERMINATOR OR TRANSFORMER?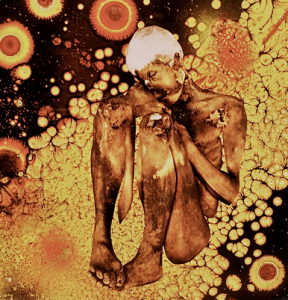 A person views death in one of two ways: as the Terminator, or as the Transformer. Most of us take it for the Terminator. The Reaper. The Monster under the bed. We spend our lives running, then hiding. From the inevitable. We feel uncomfortable when Death is discussed. When it is the subject of a book, we — like the biographers already mentioned — think it must be doom and gloom, exploitative or morbid.
The magnificent Seven, on the other hand, all deeply spiritual, viewed Death as a Transformer. A teacher. A motivator. It scared them, sure. They were only human. But it attracted them, too. Each was born with enormous creative talent – where did it come from, and where did it go? Each pondered this question and in their soul knew that the end was not The End.
"The Maharishi told us that death is just an illusion, and we mustn't get depressed about it," said John after Brian Epstein, the Beatles' manager, ODed. "I'm not afraid of dying," he went on. "It's just like getting out of one car and into another." And so he stepped out of a limo at the Dakota then, moments later, was carried to the back seat of a NYPD squad car.
Tomorrow Never Knows, based on The Tibetan Book of the Dead. Lay down all thoughts, surrender to the void, It is shining, it is shining. So play the game existence to the end. Of the beginning, of the beginning.
Jerry Garcia was a student of the Tibetan bible too. When he first dropped acid, his friend and lyricist, Robert Hunter, saved him from a freak- out by reading him passages from the book. Captain Trips soon formed the Grateful Dead which he said was "all about the death of the ego." He married his second wife, Mountain Girl, in a Tibetan ceremony. Toward the end of his life, when he was diabetic, 300 pounds, his cholesterol 900, and his liver shot, he said, "Stick around – for THIS?" Soon, his ashes were spread in the Ganges.
Kurt Cobain called his group Nirvana, defining it as "total peace after death." He and Courtney kept a Tibetan sanctuary in their house. After his death, the widow had the Namgyal Buddhists make devotional tsatsas from his crematory ashes.
Just before Hendrix's end, a German fortuneteller, Clara Schuff, told him he was descended from Tibetan royalty and that in his next incarnation he would teach the magical astrology of Tibet. Hear my train a comin, sang the Voodoo Child. And if I don't meet you no more in this world then I'll meet you in the next one and don't be late, don't be late.
Jimi's lover, Janis, was "a very spiritual person… but afraid to let others see that," said her friend, Pat Nichols.
Janis's lover and nemesis, Jim Morrison, called himself a shaman and had studied the Tibetan Bon Po's who worshipped in graveyards. "People fear death even more than pain," said the Lizard King. "It's strange that they fear death. Life hurts a lot more than death. At the point of death, the pain is over. Yeah, I guess it is a friend, The End."
An avid reader, Elvis counted The Autobiography of a Yogi and The Tibetan Book of the Dead among his favorite works. In the late sixties, he became the student of Yogi Daya Maya at the Self-Realization Fellowship in Malibu. Telling her he sought "a higher level of spirituality," he pleaded: "I want to get there now. I want a crash course." By this time, the King was already dangerously addicted to prescription narcotics. Of his drug abuse, his step-brother, David Stanley, wrote: "It was like a fantasy to see how far he could go – almost as if he wanted to die – and come back, just to see the other side." In his final years, the singer often visited graveyards and dropped in on mortuaries to watch embalmings. "His fascination with human corpses was downright terrifying," recalled his old friend and bodyguard, Sonny West.
So, in view of all this, my book — in honor of its predecessor and the great meaning the stars attached to it — is called The Rock and Roll Book of the Dead. Within its pages Death is viewed as the stars themselves viewed it: as a Transformer, not a Terminator.
More than this, the life of each star was a series of purgatories – or "Bardo" states – challenging them, trying them and leading them to the End.
---
[1] Charles Manson, an aspiring rock musician inspired by the Beatles' Helter Skelter, had also threatened Hendrix and Lennon.