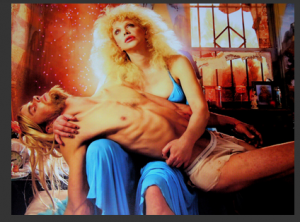 I'm all I wanna be — a walking study in demonology.
"Celebrity Skin"
 "I might lie a lot, but never in my lyrics."
Courtney Love
Twenty years ago, on March 4, Courtney Love tried to kill Kurt Cobain for the first time. So believes her own private detective, Tom Grant, as well as other scrupulous investigators.
The Nirvana frontman was in Rome at the time suffering from bronchitis, laryngitis, and exhaustion. On doctor's orders, he had just cancelled the rest of his band's 1994 European tour. His wife had been in London plugging her soon to be released Hole album, Live Through This. Mixing business with pleasure, Ms. Love had been sharing her suite with her lover, Billy Corgan of the Smashing Pumpkins.
When Courtney rendezvoused with the convalescing Kurt at Rome's Excelsior Hotel, he presented her with a three-page letter. "It was mean to me… not really nice," she later told her detective, Tom Grant. "It talked about getting a divorce." It also mentioned cutting her out of his will and disbanding Nirvana.
Early the next morning, an ambulance sped from the Excelsior to Umberto Polyclinic hospital, bearing a fully made-up Ms. Love and a comatose Kurt. The star's stomach was pumped and he awakened twenty hours later.
Dom Perignon and sixty hits of Rohypnol — the Date Rape drug — were found in Cobain's system, usually a fatal dose. Before leaving for Rome, Ms. Love was interviewed by Select magazine in her London hotel room and had there a "a box of Rohypnol on her big mahogany table." Popping some, she explained, "I got it from my doctor. It's like Valium."
Cobain's treating physician in Rome, Dr. Osvaldo Galletta, told Wallace and Halperin, authors of Love and Death: "We can usually tell a suicide attempt. This didn't look like one to me."
Geffen Records, too, issued a statement that the incident was "accidental."
Cobain confirmed this, but refused to discuss the incident further. In fact, his memory was likely impaired since Rohypnol overdoses commonly cause prolonged confusion and amnesia. "Cobain doesn't know what happened to him," Dr. Galletta confirmed at the time. "He hasn't gained complete control of his memory."
But if Courtney had slipped Kurt the drug, why then had she called the ambulance? By her own admission to Rolling Stone magazine, she found her husband comatose on the hotel room floor at 3 or 4 a.m. She did not call the ambulance until 6:30, and never provided an explanation for the delay. Earlier that morning Geffen Records had received a phone message from "a female identifying herself as Courtney saying Kurt was dead."
Ms. Love's former husband, "Falling James Moreland" — the self-described "Eddie Fisher of punk rock"– might have warned his successor about such marital misadventures. Their marriage was annulled after Ms. Love set his bed on fire while he was sleeping.
She could get uncontrollably violent," Falling James told Wallace and Halperin. "She's dangerous. She definitely has an evil side."
On the rebound from James, Courtney had turned her attention to the "Smells Like Teen Spirit" star. Soon, a smitten Kurt was calling her "the coolest girl in the world," and his ultimate diva fix — "my heroin." Courtney seemed like a soulmate, her childhood a mirror of his – the early parent divorce, the homelessness, the drug abuse, the scrapes with the law.
After their wedding on a cliffside in Waikiki in '92, Rolling Stone asked Kurt the secret of their romance. "It's like Evian water and battery acid," he replied. "Mix them and you get love."
But, when the champagne was mixed with the Rohypnol, the star got chemistry he apparently hadn't expected.
Until Rome, he had admired his wife's take-no-prisoners attitude. In an Oregon reform school, she had stabbed a girl "because I didn't like her looks." Later, when thinning the competition for Kurt's heart, she had informed his girlfriend, Mary Lou Lord, "I'm gonna cut your head off and shove it up your ass." As for others, "I'll destroy anyone in my way. I'll kill every lousy lay – Coz I got my eye on a Future Date," she wrote in an early love couplet. Later, she narrowed this down to "five people in the world that, if I ever run into, I will f–king kill."
Presumably, Kurt was confidant he wasn't on this list when tying the knot with Ms. Love. But, two years later when waking up in the Rome ICU after cocktail hour with the coolest girl in the world, might he have begun to wonder?
By this time Kurt had discovered their fatal irreconcilable difference: fame. He hated it; she loved it – the limos, the mansions, the money. And now that he was filing for divorce and writing her out of his will, she had just two choices: she could become a poor, humiliated divorcee with a dying career; or she could become rich widow with a reborn career.
For "the girl with the most cake," as Courtney called herself, this was really no choice at all. Besides, she'd made the choice years ago. "I'm gonna marry myself a rock star and kill him," she had written in a letter to her father.
When the Roman doctors derailed her plan, she retreated and regrouped. "If he thinks he can get away from me that easily, he can forget it," Mrs. Cobain told Spin magazine after her husband regained consciousness. "I'll follow him through hell."
And Hell it was for the last month of Kurt's life in a Rohypnol daze.
Two weeks after he left the hospital and returned home to Seattle, he locked himself in his bathroom, escaping a raging Courtney. They'd been arguing about the divorce and the will again. His wife called 911, crying that he had a gun which he might turn on himself. He emerged from the locked room without a gun, but the police confiscated his house weapons anyway.
Kurt soon secured another gun for "protection," explained the friend who bought it for him. He somehow felt unsafe in his own house. Hunted. Or was his paranoia just another after-effect of the Rohypnol OD?
Just before Easter, his lifeless body was found in the storage room above his garage. The new gun beside him bore no discernable fingerprints. Handwriting experts later found that the "suicide" note beside him was in part a forgery.
At the Sunday candlelight vigil for her husband, the widow Love read to his 7,000 mourners the part of the note about his not wanting to be a rock star anymore. "Shut up, bastard!" she cried. "Why didn't you just enjoy it?"
Years later, the wealthy widow who had once conceded to her critics, "I might lie a lot, but never in my lyrics, wrote a popular tune called "Celebrity Skin." I'm all wanna be, she sang, a walking study in demonology.